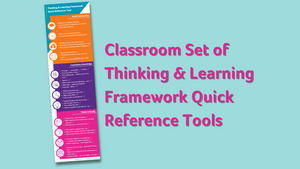 CTL's Thinking and Learning Framework is designed to promote active thinking, learning, and engagement with content and between students through three domains (Build Community, Contribute Knowledge, and Think Critically) and four practices within each domain.
The practices within each domain:
Help students learning how to respect the views of their peers while strengthening their own communication and thinking skills.
Encourage students to use the information they are gathering through their learning (e.g. reading, notes, quick writes etc.)
Provide structure for students to improve their discussion and thinking skills. 
Enable students to construct arguments based on evidence. 
This product contains (36) 4.25"x14" Thinking & Learning Quick Reference Tools.